CHRISTMAS HOLIDAY 2019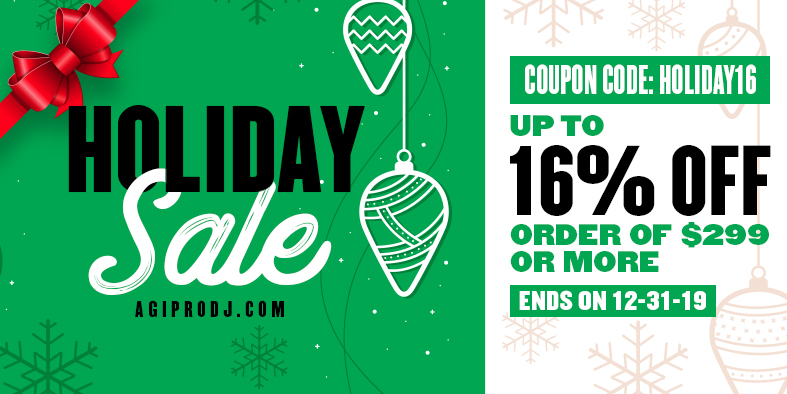 Holiday 2019 Sale has just started!!
USE COUPON CODE HOLIDAY16 AT CHECKOUT TO SAVE
up to 12% OFF Orders $49 - $299
up to 16% OFF Orders $299+
HOLIDAY16 works on some of our bundles. Give it a try!
ALL EXTENDED WARRANTIES ARE ON SALE FOR 25% OFF AUTOMATICALLY IN YOUR SHOPPING CART. CONTACT US TO ADD A WARRANTY TO ANY PURCHASE MADE IN THE LAST 30 DAYS.
FREE SHIPPING ON ORDERS OVER $99. NO SALES TAX ANYWHERE IN THE US.
If you want to complete an order on the phone please call us 866-776-6499.
If you want to place a large order using multiple credit card, please call our sales line 866-776-6499 option 2.
Holiday Coupon Guidelines, Rules, Exceptions & Exclusions:
- The following items are excluded from discounts: Doorbusters, used, customer return, open box, demo units, some bundles, Shure QLXD Wireless, ALL Trussing (Global Truss & TRUSST), control vinyl and some items under $100.
- Some items may have a limit to the maximum discount allowed. This will vary from item to item and is determined by a number of factors - available margins, cost to ship, manufacturer restrictions.
- The maximum discount will be automatically applied at checkout. For example – Odyssey and Pro-X Flight Cases have a maximum discount of 10%.
If you have a question about the contents of your cart and discount PLEASE call us at 866-776-6499 or use our web based chat system.
Happy Holidays & Merry Christmas!